Our International Connections
Fast and frequent trains. Accessible and well-connected roads. Comfortable closeness to the UK's busiest airports. The world truly is on Ashford's doorstep.
The train journey to London takes just 38 minutes and trips to Paris from Ashford International take only 1 hour 52 minutes via Eurostar - the only high-speed train that directly links the UK to France and Belgium via the Channel Tunnel.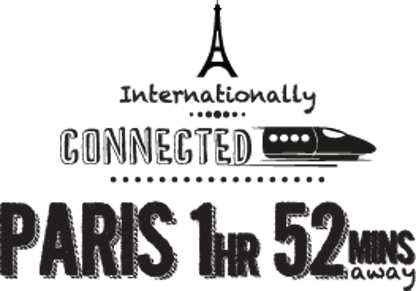 Direct high-speed services also connect passengers to Lille in under an hour and Brussels in 1 hour 37 minutes, placing Ashford in the centre of this dynamic area between all three capital cities.
Eurostar's main terminal in Ashford takes travellers from one business destination to another in record time – perfect for business leaders on tight time schedules.
Improvements to the Eurostar services now offer direct services from Ashford to France's three largest cities, Paris, Lyon and Marseille, as well as Lille and Avignon, truly opening up the French market to Ashford companies.
By car, Ashford is 1hr 35mins from Heathrow, 1hr from Gatwick and just over 30mins from the Channel Tunnel and Port of Dover.
To find out more, get in touch.